The Right Moving Equipment for Your Facility Relocation and Equipment Moving Needs - Right Now!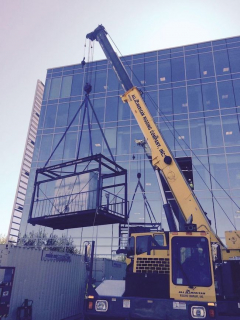 We have extensive experience in moving equipment for such companies as Heidelberg, ASAP Printing, Benchmark Electronics, Hartwig, Consolidated Graphics, and Nanya Plastics, just to name a few. We have broad experience in moving and relocating printing equipment such as; paper cutters, paper folders, stackers, sheet fed presses, web presses, binders, die cutters and pre-press equipment.
We also have specific expertise in medical equipment relocation and installation, including; MRIs, cat-scanners, nuclear cameras, gamma knives, linear accelerators, cath labs, and diagnostic imaging equipment. Medical industry customers include; Siemens Medical Systems, GE Medical Systems, Hitachi Medical, Bruker Biospin, Hegele Logistics, Remetronix, Methodist Hospital, Memorial Herman Hospital, St. Lukes Episcopal and MD Anderson Cancer Center.
We are Ready to Take on Any Job, Any Time, Any Where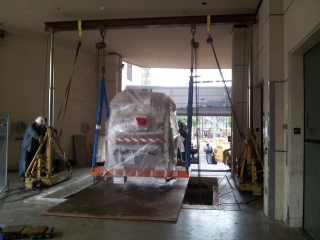 All American Rigging is an organization of trained professionals. We can take on any size project with thorough planning and confidence. We can provide the electrical, mechanical transportation and logistical support as well as short or long-term storage. Couple that with experienced and dedicated staff, and you have an unbeatable combination that will work tirelessly to ensure that your operations are back online without any unnecessary delays or incidents.
All American Rigging staff are available 24 hours a day, 7 days per week, 365 days a year. We will take on any size project within all 48 contiguous states.
Contact our professionals to find out about how we can plan your next expansion, relocation or move.